Short Funny Quotes

The Diary of a First Grade Teacher
Short funny quotes come from what my first graders say and from what they write ...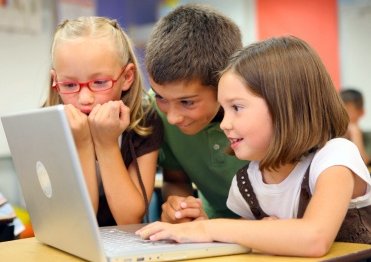 Once per week I take my students down the hall to a class called Computer Lab. There, they learn many skills, including how to use a computer.
Through various activities, they improve their reading and writing skills.
After they have spent a few weeks on the computer learning the basics, I give my favorite assignment ... I tell them to write me a story.

Inventive Spelling
So as not to interfere with the writing process or flow of their stories, inventive spelling is employed … The students are told to spell the words like they sound.
As this point in time, the story is the most important thing, and not the mechanics of writing. So, after the story is written, I help them with capitalization and punctuation, only.

Short Funny Quotes from First Grade
Here are some short funny quotes I believe to be exceptional stories from my funny first grade people. Talk about inventive spelling … First graders definitely know how to invent! lol

My Frnd's Dog by Martin
The dog nex door is big, big, big. He is my frnd's dog. Thya spint a lot uv mone on him. Whin I see him and he donut see me, that's good. But whin he do see me, I run, run, run.
Kittins by Ema
Kittens can be meen. Tha skrach me all the tim. Mabe tha do not like me. Tha do not like echa othr! Mi kittins fite echa othr. Now tha are creepold. I helpt thayr boo boos get bedr. Mabe thay will like me now.
Noo Dog by Amy
My mom has a noo dog. She is a litl Picanees. Her name is Trxee. When I git hom she runs owt ov her fens. She likes me soo mooch, she jumps me downa. But I git up an pet her.
Insex by Clarissa
Insex has sex legs. A shoo fli is a insex caws it got sex legs. A cookrooch has sex legs, and it is yooeee gros. I do not lik gros insex. A shoo fli strbs me all the tim. I sa, "Shoo fli, go a wa. Do not strb me!"

Funny First Grade People
Loegan really impressed me with the metaphor he wrote in the following story ...
Lions by Loegan
Sumtims a lion will eet anuthur amunul. Lions are meen. I like lions. A lion is keen off the juggil. I am a lion. I am keen off the compuutr.
My Dog by Ben
I had a dog. We playd evreday. We playd dokter. I was the dokter. He was the pashunt.
I had him for a week. I do not no y he runed away.

My Family by Stevie
I hov a mom. I lov my mom. Do you hov a mom? I hov a dad. I lov my dad. Do you hov a dad? I hov a litl bruthor. Do you hov a litl bruthor?
Horsics by Gena
Whin horsics are born, tha are cald fools. Whin tha are bigr, tha are cald pones. Whin tha are gronup, tha are cald horsics. Horsics is mi favorit amnul.

---
Want to hear some more short funny quotes?
Read more at Cute Quotes

Funny Quotes

First Grade Quotes

Funny Life Quotes

Cute Funny Quotes

Funny Kids Quotes

How To Use Words

Problems in First Grade

Funny Words of Wisdom

Short Funny Quotes
Tell us your story and feel free to add a photo!
What Other Visitors Have Said
Click below to see contributions from other visitors to this page...

Quote Bible Verses

I love watching the kids at our church whenever they have a contest of sorts. Wednesday night, they were lined up in front of the congregation, ready …
Real Lucky!

We were in the car on the way for my son, a second grader, to - once again - go see his tutorer. He needed some extra help in Language. His little sister …
What is Arrested?

Sam, my five-year-old grandson, goes to kindergarten five days a week at a nearby church. Today, when we picked him up after class, he said, "Momma, …
Reading Homework

I don't want to say his name and embarrass him, so I'll call my son "boy." Here's what happened. My boy yelled for me to come help him with his Reading …
Do Me a Favor

When I got home today my little four-year-old granddaughter was here with her mother. I said, "It's been a while since I've seen you. Where've you …
Baylee's Taste Buds

My little girl, Baylee, ran into my bedroom, stuck her tongue out in the mirror, and squealed, "Momma, look! I got taste buds, and I can see them in the …
Just Being Nice!

I picked up Kayla, my 2-and-1/2-year-old granddaughter, from her preschool at the church. There, they teach her so many good values. Then, we went to …
My Son - The Cop

My son said, "When I grow up I want to be a cop. I would arrest someone for speeding, and then go to the donut shop."
Hobos

"Mama," Chloe said, "do hobos drive cars???"
Definition of a Genius

Here's another one from Art Linkletter's beloved book, Kids Say the Darndest Things. "This is what one kid said: A genius is a fellow who gets into …
Fair is FAIR!

Miss Dear is my son's kindergarten teacher. And she has complained to me that my son will not answer her whenever she calls his name. Miss Dear calls …
Return from Short Funny Quotes to Funny-First-Grade-People Home