First Grade Vocabulary

The Diary of a First Grade Teacher
The first grade vocabulary words here are extremely important. First, these are the words that MANY first grade teachers use.
So here's the deal ...
You can help your child at home with these words ...
But only if you are a patient person.
Come on! Always remember that learning should be fun - or at the minimum, pleasant!
---
Your Child Should Know These Words Instantly!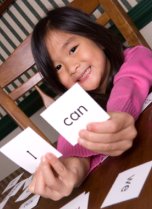 By that, I mean your child should recognize the words immediately - upon sight - and read them.
This is NOT a spelling list. This is a sight word list. Sight words are to be taught as whole words, so do not break them down. Read each as a whole word.
Take your time. There is no hurry. First grade lasts a whole school year.
Keep reading, and you'll soon discover exactly why it's important to start at the top of this first grade vocabulary list.
Important Guidelines
Give the child a few words at a time. For example, one line at a time will be fine. It may take one, two, or three weeks for the child to learn a FEW words. It depends on many factors ... So make this a game, or please, do not teach.
Practice for a VERY short period of time … Say five minutes. PLEASE do not frustrate your child!
My suggestion for the first grade vocabulary is to make flashcards.
Here are my tips ...
Make each flashcard on paper or cards small enough for your child to handle easily
Your child can best SEE black marker on a white background
PRINT each letter a-half-an-inch to one-inch tall
Please note if your child is having difficulty ...
At some point you should have his or her eyes checked by a professional. And I say, the sooner, the better.
First Grade Vocabulary
Here's an Amazing Fact for You!
Dr. Edward B. Fry arranged his list of the most common sight words in order of frequency of use. His research determined that the first twenty-four words – found at the top of the list - make up about one-third of all published work!
Wow!
So, I say this is a VERY IMPORTANT first grade vocabulary list! I'm sure you'll agree.
---
Fry's Sight Words - The First One Hundred
a can her many see us
about come here me she very
after day him much so was
again did his my some we
all do how new take were
an down I no that what
and eat if not the when
any for in of their which
are from is old them who
as get it on then will
at give just one there with
be go know or they work
been good like other this would
before had little our three you
boy has long out to your
but have make put two
by he man said up
Now, here's more help for you and your child ... After viewing the following video several times, your child will soon have the rhythm of the song and know how to read the 24 most commonly printed words in the English-speaking world!
24 High Frequency Words
More Astounding News!
Dr. Fry also discovered that the one hundred words listed here are commonly used in about half of ALL written publications! He encouraged children to memorize these sight words to become better readers.
That's why if you want to help your child become a better reader, you're going to LOVE his lists.
---
Fry's Sight Words - The Second Hundred
Important Note: If your child is struggling to learn the first one-hundred sight words, do not begin this list! Learn the first one hundred.
also color home must red think
am could house name right too
another dear into near run tree
away each kind never saw under
back ear last next say until
ball end leave night school upon
because far left only seem use
best find let open shall want
better first live over should way
big five look own soon where
black found made people stand while
book four may play such white
both friend men please sure wish
box girl more present tell why
bring got morning pretty than year
call hand most ran these
came high mother read thing

---
Fry's Sight Words - The Third Hundred
Important Note: If your child is struggling to learn the second hundred sight words, do not begin this list! Learn the second hundred.
along didn't food keep sat though
always does full letter second today
anything dog funny longer set took
around don't gave love seven town
ask door goes might show try
ate dress green money sing turn
bed early grow myself sister walk
brown eight hat now sit warm
buy every happy o'clock six wash
car eyes hard off sleep water
carry face head once small woman
clean fall hear order start write
close fast help pair stop yellow
clothes fat hold part ten yes
coat fine hope ride thank yesterday
cold fire hot round third
cut fly jump same those


See VIDEOS of Fry's High Frequency Word List
Return from First Grade Vocabulary to First Grade Skills

Return from First Grade Vocabulary to Funny-First-Grade-People Home