Special Occasions

The Diary of a First Grade Teacher
First Graders LOVE special occasions! And at school there are many days to celebrate. In fact, whenever no important occasion is on the school calendar, we first grade teachers will create one.
We celebrate everything, and especially important holidays! It keeps our students highly motivated and involved in learning. And I always learn a lot too, especially about life, relationships, the human heart and countless blessings.
Our Christmas Party
After seeing that my firsties were busy (and boy, were they!) crunching, smacking, licking, and poking their Christmas cookies and candies, I plopped into my chair and stared at my desk. Wow!
Gifts of all sizes, shapes, colors, and smells were stacked on it, ready to be opened.
Suddenly, there - between the colorful ribbons, gift bags, and bows - two large, innocent eyes gazed at me, earnestly. It was Michael.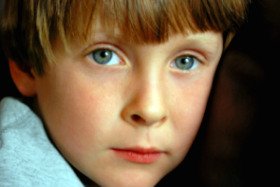 "Teacher," he said, "I didn't get you no present. Nuttin'."
"That's okay," I said, trying to reassure him. That didn't matter one bit to me. But I was concerned about him ...
"Are you having fun at our Christmas party?"
I glanced at his desk and then saw that he hadn't touched any of his treats or party favors.
He stared at the schoolhouse floor. And never answered.
"I wanted to buy you something," he continued, "but I don't got no money."
"Listen, baby," I said, "don't you worry about that. I don't want you to worry about anything. Just enjoy yourself!"
But his little face was filled with sadness. And I couldn't stand it!
"Teacher," he continued, "when I get me some money, I'm gunna buy you the bestest present in the world!"
That's it, I thought. I've got to do something. I prayed silently ... Lord, help me to say the right words to this precious child.
Reaching out my arms, I said, "Come over here, sweetheart."
Leaning over from my seat, I was eye-level with him. I took both of his little hands and placed them gently into mine.
"Can you keep a secret?" I whispered. "Because I've got something REALLY important to tell you."
His mouth dropped open in surprise, and he nodded slowly.
"Do you see those gifts right there?" I glanced at my desk, and he did too.
"Well, I think they are very, very nice ... but guess what! The present I would like the most right now is not there."
Michael listened intently.
"Do you know what I really, REALLY want for a gift right now?"
At first, he was speechless, but I waited ... and finally, he breathed. "What?"
"What I really would LOVE right now is a BIG hug! That would be … "
Well, I never completed my sentence because Michael grabbed my neck, and with both of his arms, he pulled me in toward him. He squeezed me so hard I almost fell out of my chair on my head!
After that, he raced away ...
I watched as he ripped into his party favors and gobbled his food. Soon red and green Christmas cookie icing decorated his mouth and both of his hands.

Celebration of the Most Special Occasion of ALL
---
And finally ...
As we celebrated (for me) the most special occasion of all year - which is the birth of my Savior, Jesus Christ - I thanked the Good Lord for all the many blessings he had given me this year ...
Including my family, friends, our school faculty and staff, and my roomful of sweet, adorable first graders! And for now, they were all healthy and happy, including Michael. His face was beaming with joy!
---
Want to see more stories?
Read more about Special Occasions at Safety First

B for Birthday

The Tooth Fairy

Happy Valentines Day

1st Grade Halloween

First-GradeThanksgiving

Where is Santa?

Field Day

Field Trips

First Graders and Stories for Bedtime

Last Day of School


Have A Great Story About This Topic?
Do you have a great story about this? Share it!
Return from Special Occasions to Funny-First-Grade-People Home